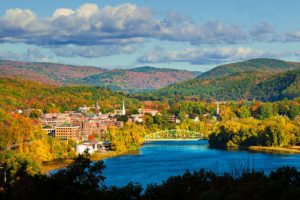 Because we know you don't want to miss a minute of the 18th annual festival, here are some tips to make it easier:
Parking:
Parking in long term (10 hour) parking areas is always better-it eliminates the worry of an expired meter. The two long term lots closest to the festival venues are the High Grove lot (near the Robert H. Gibson River Garden and Centre Congregational Church) and the Transportation Center (near 118 Elliot and NEYT). Parking in these lots is only $.40 per hour so you can park all day for around $3.00. Short term parking at meters is limited to 2 hours and is $1.00 per hour. On Friday and Saturday, parking regulations are enforced from 9-6. Parking is free on Sunday.
http://www.brattleboro.org/vertical/Sites/%7BFABA8FB3-EBD9-4E2C-91F9-C74DE6CECDFD%7D/uploads/Parking_Lot_Map.pdf
If you are running from Centre Church to 118 Elliot, consider going through the Brooks House lobby to the Harmony Lot to save a few steps.
General: 
Bring a small umbrella if the weather is inclement.
Dress comfortably.
We love our phones, too but please turn off all ringers and alerts at events- nothing is more embarrassing or annoying.
Absolutely no food or drink at the Centre Church.
All venues are fully accessible.
No flash photography but we absolutely encourage you to take photos with your mobile devices and share them on social media.
Food:
For a quick snack, breakfast or lunch:
The Works
– large cafe with sandwiches, bowls, wraps, panini, breakfast sandwiches and bagels. Free WiFi.
6:00 am- 8:00 pm.
On Main Street between High St and Elliot St.
Amy's Bakery Arts Cafe
– the best baked goods downtown along with soup, gourmet sandwiches, salads and drinks. Free WiFi. On Main St. near Elliot.
8:00 am- 6:00 pm.
Tulip Cafe
– Great sandwiches, salads, crepes, panini, breakfast until 
11:00 am
, drinks. Free WiFi. On Main St. in the Brooks House.
9:00 am- 4:00 pm.
Superfresh Organic Cafe– located at the bottom of Main Street next to the Latchis, has great healthy options including vegan or gluten free. Open 10:00 am-9:00 pm.
Brattleboro Food Coop
at Main and Canal Street has a large cafe and all sorts of healthy options for breakfast, lunch or dinner from smoothies to sandwiches and salads. Also a large food bar.
Saturday
7:00 am-9 pm
,
Sunday
9:00 am – 9:00 pm.
Free parking on site while you are there, Wi-Fi.
Breakfast
If you are downtown early and want a full brunch, consider
Duo
at the corner of Main and High for brunch Saturday and Sunday between
9:00 am and 2:00 pm.
Or if you just want great coffee or expresso and a pastry,
Mocha Joe's
at the corner of Main and Flat Street is an excellent choice-they roast their own coffee.
Amy's Bakery Arts Café
is another great coffee and pastry option. And the
Tulip Café
and the
Works
both offer a variety of coffee and good breakfast sandwiches and wraps.
Lunch & Dinner
At the end of the day, you can relax over dinner or drinks at one of many fine restaurants:
Whetstone Station and Brewery
overlooks the CT River and has great food plus a brewery on site- also open for lunch. Located at the bottom of Main Street next to the bridge. Open from
11:30 am
till late.
Echo
– Brick oven pizza, pasta, specialty drinks, On Main Street near Elliot St. Lunch Thursday-Sunday 11:30-3:00 pm Bar open at 4:00 dinner 5
:00 – 11:00
Friday
and
Saturday
,
5:00 – 10:00
on Sunday
.
Shin La
(Korean, Japanese and sushi). Located on Main Street for over 30 years-a Brattleboro institution. Open from
11:00 am-9:30 pm.
Closed
Sunday
.
Turquoise Grille
– Turkish offerings including kebabs.
11:00 -3:00 pm
lunch
5:00-9:00 pm
dinner.
Blue Moose Italian Bistro – 39 Main Street. Open at 5:00 pm  for dinner only. Pasta, flatbreads, salad
Yalla Israeli-inspired street food- homemade hummus, fresh-baked pita sandwiches, and other Middle Eastern specialties.
Hazel
– Handcrafted pizza, applewood smoked barbecue, signature cocktails. Located on Elliot St across from the transportation center. Dinner only- Open from
5:00 pm
-close
Elliot Street Fish and Chips
-Small restaurant with truly eclectic menu with something for everyone- kids, vegans, vegetarians, comfort food seekers, fish & chip lovers. 
50 Elliot Street
11:30 am-8:00 pm
Upscale dinner options include:
Duo
Peter Haven
T.J. Buckley's
Reservations are recommended for these locations
Late night
Arkham 16 Harmony Place (on the Harmony Lot behind the Brooks House at the opposite end of the lot)
Latchis Pub (near the Latchis Hotel)-50 Main Street
ENJOY THE FESTIVAL!!!