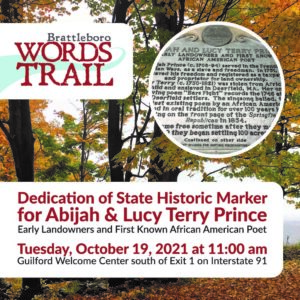 The Brattleboro Words Trail is collaborating with community partners to host an official unveiling of a state historic marker recognizing the achievements of Lucy Terry Prince, considered the nation's first African American poet, and her husband Abijah Prince, early Black Vermont landowners in Guilford and Sunderland and advocates for civil rights.
A drummer and special speakers will commemorate the placement of the sign in the parking lot of the Guilford Welcome Center (Interstate 91 near Exit 1) Tuesday, October 19, 2021 at 11:00 am.
The event, hosted by the Brattleboro Words Trail and the Town of Guilford, will feature reflections from author Gretchen Gerzina, poet and artist Shanta Lee Gander, and executive director of Vermont Partnership for Fairness and Diversity Curtiss Reed, Jr.  The event will be called with traditional African drumming by Sayan Camara.
Brattleboro Words Trail (http://brattleborowords.org/)
Contact: brattleborowords@gmail.com
Facebook: https://www.facebook.com/BrattleboroWords
Event Link: https://fb.me/e/2Dgoiolp7